Profit Safety Shoes
More About The Safety Shoe Brands We Supply
Suppliers Of PROFIT Safety Footwear
ProFit safety footwear has become a commonplace item in the PPE kit for most individuals these days. No matter what your job entails there is probably a good reason to protect your feet with a good pair of ProFit safety footwear. Most people assume that ProFit safety footwear is solely to protect their toes from crush or impact from falling objects, but that is only one aspect of their use. Other protection offered by ProFit safety footwear is metatarsal protection and support, as well as super-tough steel plates that reduce the risk of sharp objects penetrating the sole.

Now, your shoes can have the safety features equivalent to an Airbus A380, but if they are not comfortable, your workforce will most likely not wear them. It is for this reason that comfort is as important to us as safety when we evaluate a style for our range. Two key components that set us apart are our Arachna Foot Insole which is customised to control the way the foot functions and ensures correct biomechanical balance. Additionally, we have taken the time to create a collection of safety footwear for Men and Ladies, which clearly distinguishes the unisex fit from the true Ladies fit. This type of fit is extremely important when selecting styles that are both comfortable and safe.

The third criteria that we include in our selection process are ensuring that the shoe (or boot) is stylish and modern. Our extensive range of styles ensures that there is a shoe to fit everyone's taste and is sure to create some serious shoe envy!

Safety – check
Comfort – check
Good looking shoes – check


More About ProFit Safety Shoes…..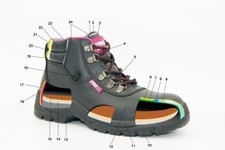 1. Tongue interlayer: Sponge
2. Tongue lining: Mesh with sponge
3. Tongue: PU leather
4. Shoe laces: Nylon cord with plastic head
5. Eyelets: D-type Metal
6. Vamp lining: Non-woven fabric
7. Upper interlayer: foam
8. Roof bar of steel toecap: PVC
9. Toecap: steel
10. Outsole: PU
11. Midsole: PU
12. Upper: Smooth action leather
13. Heel interlayer: Foam
14. Upper midsole: Non-woven fabric
15. Insole: Nylon mesh + EVA
16. Heel upper interlayer: Chemical sheet
17. Heel upper interlayer: Foam
18. Upper decorate ribbon: Nylon
19. Collar interlayer: Sponge
20. Heel piece: Smooth action leather
21. Collar interlayer: Foam
22. Collar: PU leather
23. Collar decorate slice: Reflective PVC leather
24. Collar lining, quarter lining and tongue lining: Nylon mesh
All Profit Footwear is tested by Intertek laboratory and complies with the current International Safety Footwear standard, ISO 20345:2011.
Meanings of symbol standards
SB Safety footwear for professional use, with toe tip resistant to shocks up to 200 J.
S1 Like SB, plus the rear part closed anti-static features and absorption of heel energy.
S2 Like S1, plus water-resistance and water absorption features.
S3 Like S2, plus soles are resistant to perforation and have a tread pattern on them.
P Footwear with a steel insole for protection against the risk of perforation up to 1,100 Newtons.
C Footwear with electric resistance up to 100 KW 1.000 MW)
E In the case of a fall, heel shock of up to 20 J is absorbed.
WRU Resistance of the upper part of footwear to penetration by water and its absorption.
HRO Resistance of the sole to heat from contact (up to 300ºC in one minute).
M Metatarsal impact resistance.