Cattell's Industrial Footwear | Blog
Revolutionizing Steel Toe Cap Shoes for Women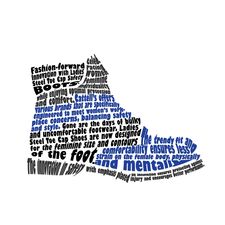 It's the end of the year and as usual, we are using this time to look back and do some personal evaluations especially when it comes to our performance in the workplace. Woman have achieved so much over the decades that no career path is unavailable. However as much as the fact that women can be anything in the workplace, unfortunately, work attire has not always kept up to date with the movement. 
This is evident in the industrial sectors where women have to wear safety wear. This safety clothing is usually made with men in mind, especially the shoes. Safety shoes especially the steel toe cap safety shoes are usually heavy, clunky in appearance and bulky on the foot. They are not comfortable in any manner and put enormous strain on the calf muscles and ultimately the lower back of a female. But complaining is futile, however, before you decide that a career path alteration is on the horizon perhaps you should look deeper into what is out there. 
Cattell's has been supplying a unique range of ladies steel toe cap safety shoes to the industrial environment for years. These types of shoes are uniquely designed for the comfort and design of a women's needs. It conforms to smaller contours of the feminine foot and allows for the support in the arch while also ensuring that the steel toe cap in the front of the shoe does not feel uncomfortable or hurtful. In addition, they are made with stylish material and seasonal colours that allow a woman the freedom to still express your lady-like side while still being protected with the best in safety gear. 

So as you begin the new year, time to look at the various stylish ladies steel toe cap safety shoes that are made for women who are as tough as nails but don't want to feel like they have nails in the shoes. Allow yourself the freedom to be safe in the workplace and express your individuality.